YOUR FITNESS BLOG
Organic Versus Non-Organic Food
Organic Versus Conventional Farming
Organic farming is an agricultural production method that is becoming more prominent because of the growing popularity of organic food and products [4]. Certified organic farming produces food that adhere to a strict set of principles and standards that regulate the use of chemicals in crops, medicines for animals as well as their ethical treatment, and the impact farming has on the environment [4].
Previous research demonstrates higher nutrient content in foods that are organically grown, while others show no differences between organic and conventional food production. Given these mixed responses, there is still much debate over whether organic farming produces food that offers superior health benefits compared with conventional farming.
A Look Into The Research
When we evaluate the available research in this area, it's understandable why the organic versus non-organic debate exists. In 2009, the Food Standards Agency, an independent Government department set up by an Act of Parliament to protect the public's health and consumer interests in relation to food, showed that there are no important differences in the nutrition content, or any additional health benefits, of organic food when compared with conventionally produced food.
Other systematic literature reviews have recently analysed the available published information, with the aim of identifying the potential effects of organic and conventional production protocols on the nutritional quality of crops [2, 3, 4]. However, these systematic reviews present with multiple limitations including methodology flaws, failure to use more recently available publications, and poorly structured assessment of the gathered evidence.
As a result, there is still considerable controversy as to whether the use of organic production standards results in significant and consistent changes in the concentrations of potentially health-promoting and potentially harmful compounds in crops and crop-based foods.
Stronger Evidence Base
So, what do we have to support the health benefits of organically grown crops? A meta-analyses was published in the British Journal of Nutrition in 2014 that set out to examine the difference in composition between organic and conventionally produced crop based foods. This Newcastle University led study analysed 343 papers where more than one-half of the publications analysed were published after 2006 [1]. A major strength of this study was that it systhesised a much larger evidence base that allowed the authors to use more appropriate statistical methods to draw more definitive conclusions between organic and conventional crops.
The findings from this study were significant. The authors showed that organically grown crops are up to 69% (18-69%) higher in important antioxidants like polyphenols versus conventionally grown crops, the equivalent of eating between 1-2 additional portions of fruits and vegetable a day! [1].
This study also found significantly lower levels of toxic heavy metals in organically grown crops [1]. Specifically, cadmium, which is one of only three metal contaminants along with lead and mercury for which the European Commission has set maximum permitted contamination levels in food, was found to be almost 50% (on average 48%) lower in organically crops than conventionally-grown ones [1]. Also, nitrogen concentrations were found to be significantly lower in organically grown crops and pesticide residues were four times more likely to be found in conventionally grown crops versus organic ones [1].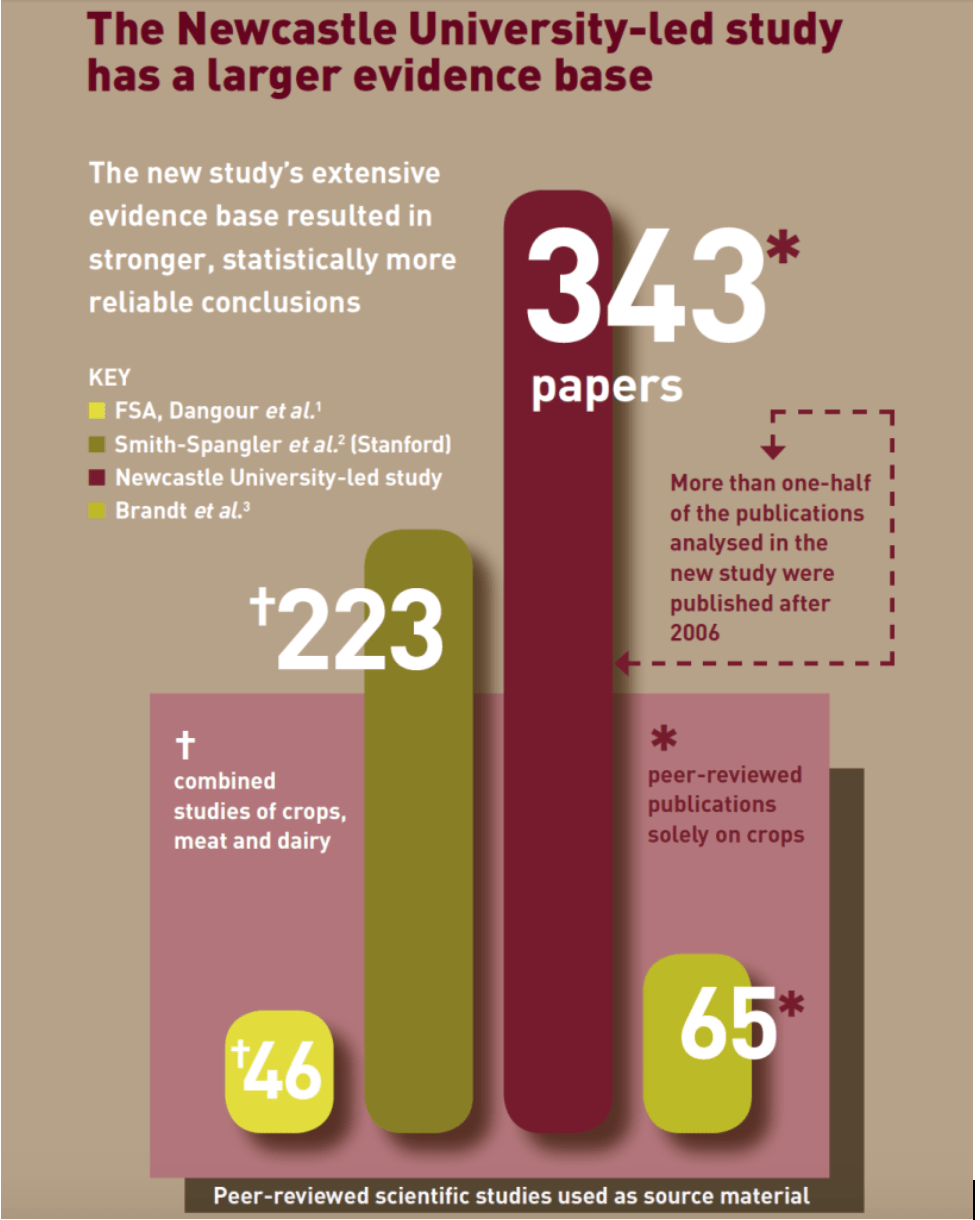 Image: Soil Association. 2015.
Professor Charles Benbrook, one of the authors of the study and a leading scientist based at Washington State University, stated: "Our results are highly relevant and significant and will help both scientists and consumers sort through the often conflicting information currently available on the nutrient density of organic and conventional plant-based foods."
Summary
Certainly, continued research needs to be conducted, particularly with controlled human dietary intervention to understand the health impact of switching to organically grow crops. However, this recent meta-analysis suggests there are marked differences between organically grown crops and that of commercially grown crops. If future research continues to identify superior health benefits with organically produced food, this would give greater consideration to food quality and help guide our food selection.
For more information on our personal training services please click here to read more.
References:
1. Baranski, M. et al. British Journal of Nutrition (2014) Higher antioxidant concentrations and less cadmium and pesticide residues in organically-grown crops: a systematic literature review and meta-analyses.
2. Dangour AD, et al. American Journal of Clinical Nutrition (2009) Nutritional quality of organic foods: a systematic review.
3. Dangour AD. et al.. American Journal of Clinical Nutrition (2010) Nutrition-related health effects of organic foods: a systematic review.
4. Dangour AD, et al. Indian Journal of Medical Research (2010) Nutritional composition & health benefits of organic foods – using systematic reviews to question the available evidence. pp 478-480.
Did you find this content valuable?
Add yourself to our community to be notified of future content.
About the Author