YOUR FITNESS BLOG
Learn More To Improve Your Muscle Tone
Basic Physiology of Muscle Growth
Muscle tone, formally called muscle hypertrophy, is an increase in the size of muscle tissue [3]. Exercise, specifically resistance exercise. in all its forms, has been demonstrated to increase muscle hypertrophy [3]. Muscle tone and development occurs when muscles are subjected to stress from resistance exercise eliciting an adaptive response [3]. Adaptation, whereby the body adjust to its environment, is a key feature of all living species [3]. In exercise, the body adapts to the stress (i.e. resistance) imposed on it by getting larger and stronger to better cope with this stimulus when exposed again [3, 7]. This adaptive response continues as long as the physical stress is regularly applied [7].
For individuals new to resistance exercise, there is an initial period of skill acquisition and motor pattern learning [7]. During this phase, the body is learning the movement and gaining important coordination [6, 7]. As an exercise is learnt (skill acquisition), the movement progresses from being disorganised and uncoordinated to smooth and efficient [7]. This initial period of motor learning and skill acquisition is essential for muscle tone and development [7]. Improvement in exercise technique corresponds with greater force production within a given exercise, which in turn can result in more muscle growth [7].
Motor Unit and Muscle Fibre Recruitment
Muscle tone and development is predicated on the body's ability to maximally recruit what are called motor units and their associated muscle fibres [6]. As our muscles are innervated by the nervous system, a motor unit is defined as an individual motor neurone stemming from the spinal cord and the muscle fibres it innervates [3]. Muscle fibres are the cells that make up muscle and can be broadly classified into type I and type II [3, 6]. Often referred to as slow-twitch, type I fibres are fatigue resistant and more suited to muscular endurance [7]. Slow-twitch fibres can endure repeated contraction, however have limited capacity to generate force [3, 7]. In contrast, type II fibres produce maximal force much quicker, making them well suited for muscular strength and power [3, 7]. However, despite their capacity to generate high amount of force, fast-twitch fibres fatigue easily [3, 7].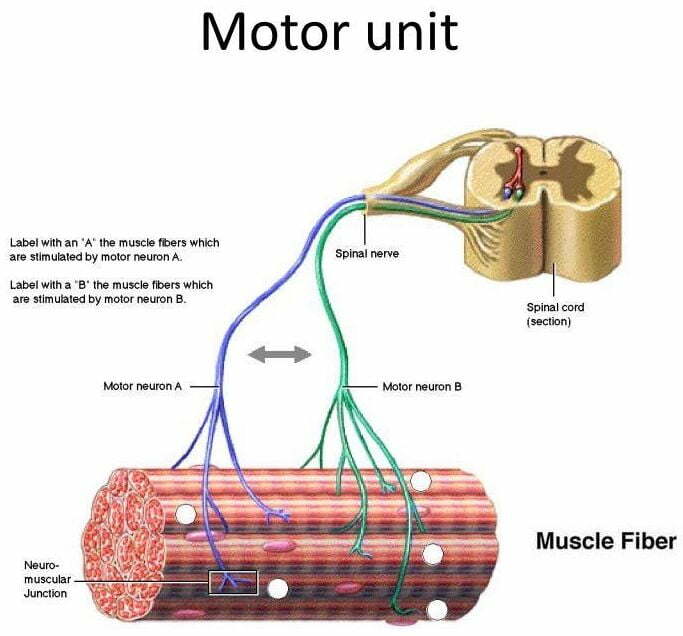 Both slow and fast-twitch fibres have the capacity for muscle hypertrophy, however, fast twitch fibres are shown to have a greater capacity (approximately 50%) [7]. Almost all whole muscles in the body are comprised of a mixture of slow and fast-twitch fibres [6]. Given this, both types are important for maximising muscle tone [7].
It is well documented that muscle fibre and motor unit recruitment follow what is called the size principle [3, 6]. The size principle states that the force producing capacity of a motor unit is related to its size [3, 6]. At low levels of force requirement, smaller, lower-threshold, and slower motor units are recruited first [3, 6]. As force requirements increase, progressively larger, higher-threshold motor units are recruited [3, 6]. For example, lifting a heavy weight requires large amounts of force and recruits a high number of motor units, both low and high-threshold. Lighter weights, if not taken close to muscular failure or at the beginning of a higher repetition set, require lower force, therefore only a fewer number of smaller, lower threshold motor units are recruited.
How Many Repetitions?
It has been shown that repetitions taken closer to failure, the point where the weight cannot be lifted anymore, generates more muscle growth than repetitions further from failure [2, 4]. This is due to muscle fibre recruitment [1, 4]. As previously indicated, more muscle fibres and motor units are recruited when lifting close to failure due to increased force demands [2, 3, 4]. Repetitions taken close to failure have been called "hypertrophic" or "stimulating" repetitions because of their importance in generating muscle growth [4].
The effect of repetitions taken closer to failure were demonstrated by Burd and colleagues in 2010 [2]. In their study, 15 healthy, recreational active men performed different levels of resistance using a machine leg extension performed single leg [2]. The three conditions were:
90% of maximum weight lifted taken to failure (90FAIL)
30% of maximum weight lifted matched repetitions x load of 90FAIL (30WM)

30% of maximum weight lifted taken to failure (30FAIL)
The first protocol (90FAIL) used heavier weights and completed fewer repetitions and took their set to failure [2]. The second protocol (30FAIL) used lighter weights and completed more repetitions and also took their set to failure [2]. The third protocol (30WM) used the same lighter weight as the 30FAIL group, however the set was stopped when this group completed the same number of work (repetitions x load) as the 90FAIL group, not going to failure [2].
Results showed that both groups that took their sets to failure had superior muscle growth compared with the 30WM group [2]. This study showed that lifting to failure (or close to failure) is highly important to muscle tone. Furthermore, the study showed that muscle growth can be achieved by using either light or heavy weights.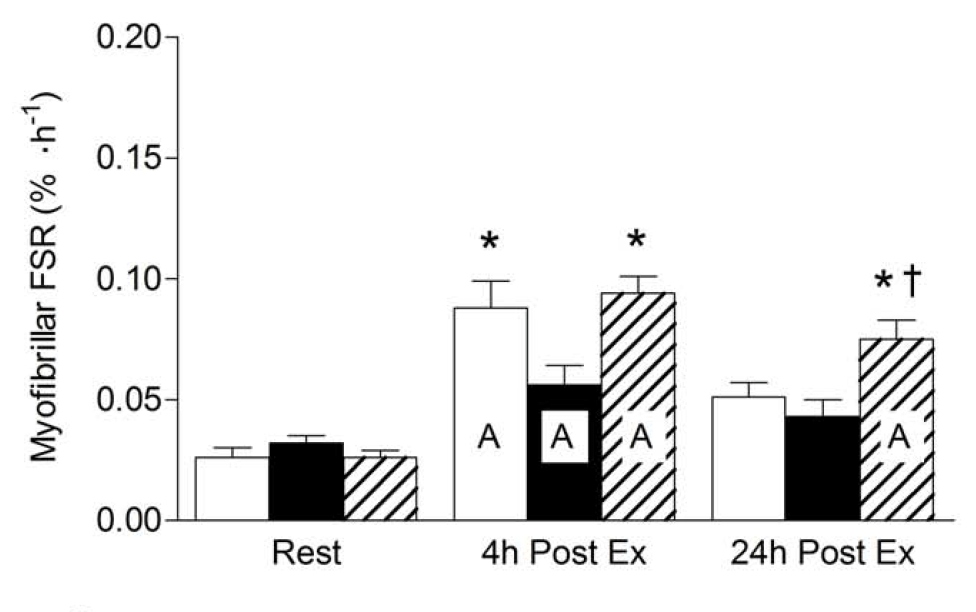 The Role of Fatigue In Muscle Tone & Development
The role of fatigue during exercise is an important factor within motor unit recruitment [1, 4]. Even under low loads (i.e. light resistance), when fatigue increases and the muscle gets closer to failure, more muscle fibres are recruited and with them, larger, higher-threshold motor units [1, 4]. Moreover, these larger, higher-thresholds motor units activate recruitment of fast-twitch fibres because of the increased need to generate more force [3, 6]. For example, for a given exercise, with light-to-moderate resistance the first several repetitions will likely feel light and require little force. At this point, there is a low number of lower threshold, slow-twitch fibre recruited. However, as the set continues, provided the lifter continues lifting the load, the resistance begins to feel heavier and force production needs increase in an effort to keep the resistance moving [6]. As this force production increases, not only are slow-twitch fibres recruited, but also fast-twitch fibres [6]. In the Burd (2010) study, the role of fatigue would explain why the 30FAIL group achieved maximal muscle fibre and motor unit recruitment similar to the 90FAIL despite lifting considerably different loads.
Low Versus Moderate-To-High Repetitions
Furthermore, moderate-to-high repetitions taken close to failure elicit more muscle tone and development than lower repetitions because of increased time under tension [1, 4]. Keeping a muscle under tension for longer period of time (i.e. multiple repetitions) stimulates muscular adaption to a greater extent than shorter time periods [1, 4]. That means, performing one or two repetitions of a given exercise produces inferior levels of muscle growth compared to a set of multiple repetitions [4].
Schoenfeld and colleagues (2016) demonstrated this their study aimed at determining muscular adaptations differences between heavy and moderate load resistance exercise[ 5]. In their study, 19 males subjects with resistance training experience (4-5 years) were randomised to either a heavy or moderate exercise group [5]. The heavy group performed 2-4 repetitions, while the moderate group performed 8-12 repetitions [5]. Each set were taken to close to failure [5]. The subjects exercised 3 days per week for 8 weeks [5]. Both groups completed 7 exercises for the upper and lower body [5]. Muscle tone was determined using ultrasound imaging of the back of the arm, front of the arm, and outer thigh [5]. Results of this study showed greater increases in muscle growth in all three areas among subjects in the moderate group compared with heavy group [5].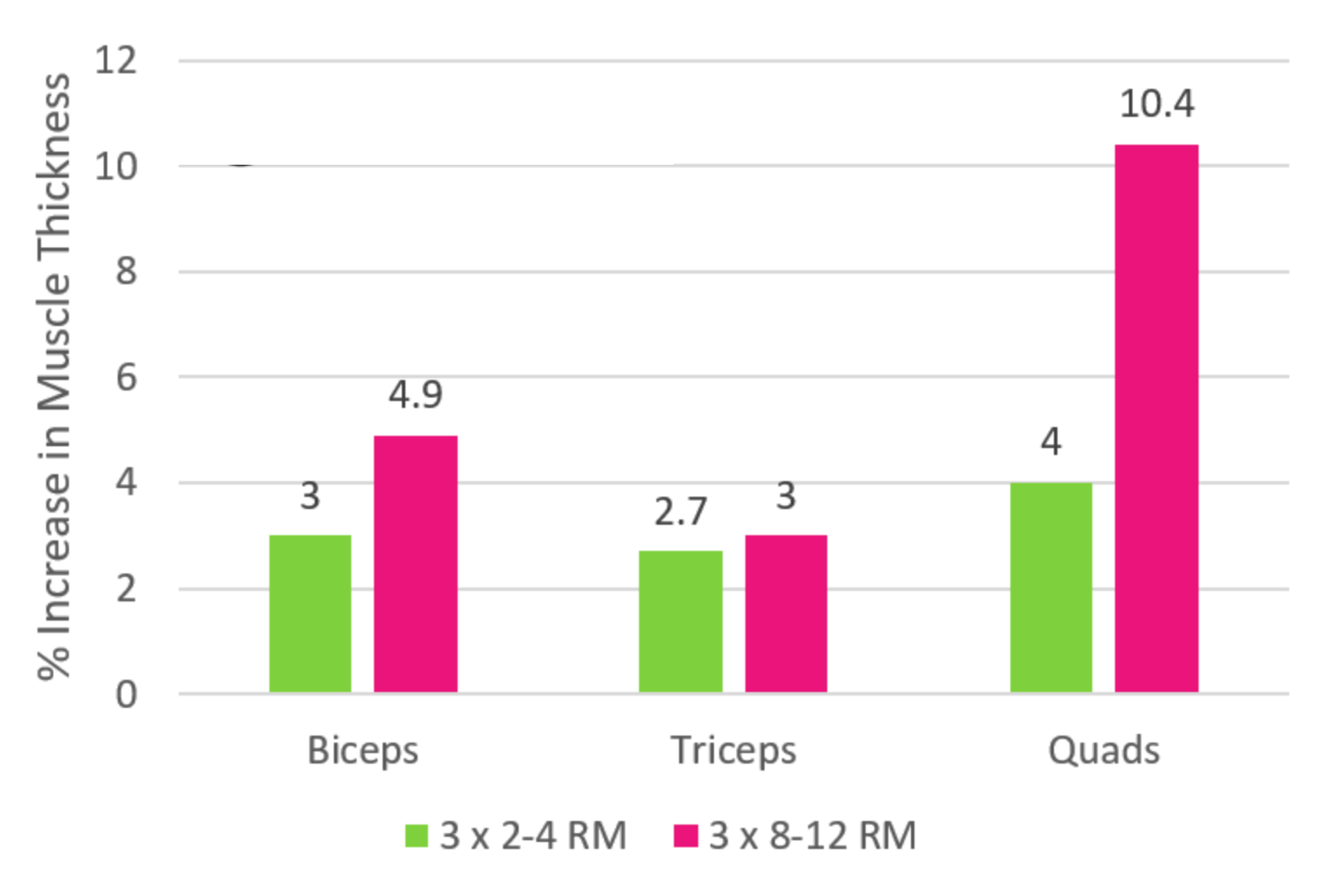 The superior muscle development experienced in the moderate group can be explained by increases in exercise training volume [5]. A dose-response relationship between total weekly volume per muscle group and muscle hypertrophy has been well established. This means that, up to a certain point, the more volume (i.e. repetitions x sets) performed per muscle group, per week, the greater the muscle growth [5]. Although both groups completed sets close to failure, the total weekly exercise volume in the moderate group were more than double than the heavy group.
Practical Application
Muscle tone and development is dependent upon the ability to maximally recruit motor units and their associated fibres [6, 7]. There are two ways in which a high number of motor units can be recruited [4]:
Increase the resistance

Bring the muscle close to failure
Heavier weights, provided they are taken close to failure, will maximally recruit all available motor units and activate type I and type II slow and fast twitch fibres, although primarily type II fibres [6]. Lighter weights, taken close to failure, will similarly recruit all available motor units and both fibre types. Lighter weights accomplish this via the role of muscle fatigue and increasing force requirements as the muscles move closer to failure [1, 2]. Using moderate (i.e. 6-15) or high (i.e. 16>) repetitions have an advantage for muscle growth over lower repetitions (i.e. <5) because of the increased time the muscles are under tension and higher volume of work.
It has been suggested that taking a given exercise 1-5 repetitions from failure elicits the same response as going to failure [1]. Therefore, going to absolute failure is likely not necessary. Important to note, repetitions to stimulate muscle growth fall on a continuum [4]. Even repetitions completed much farther from failure will elect some hypertrophic response [4]. However, this response will be less than those repetitions taken closer to failure [4]. Also, important considerations in taking exercises close to failure are proper technique and exercise experience. As the working muscles fatigue going closer to failure, it is imperative, from a safety and performance quality standpoint, to retain proper technique. Moreover, individuals new to resistance exercise should prioritise skill acquisition in coordinating to exercises before gradually taking sets closer to failure.
For more information on our personal training services please click here to read more.
References:
[1] Beardsley, Chris. 2018. What is Training Volume? Taken From: https://medium.com/@SandCResearch/what-is-training-volume-286b8da6f427
[2] Burd, N. A. 2010. Low-Load High Volume Resistance Exercise Stimulates Muscle Protein Synthesis More Than High-Load Low Volume Resistance Exercise In Young Men. PLoS One. August. Vol. 5, No. 8. e12033.
[3] Kenney, W. L. et al. 2012 Physiology of Sport and Exercise. 5th Ed. Human Kinetics.
[4] Krieger, J. Weightology. 2019. Quantifying Hypertrophic Reps and Hypertrophic Volume Load. Taken From: https://weightology.net/the-members-area/evidence-based-guides/quantifying-hypertrophic-reps-and-hypertrophic-volume-load/
[5] Schoenfeld, B. J. 2016. Differential Effect of Heavy Versus Moderate Loads on Measures of Strength and Hypertrophy in Resistance-Trained Men. Journal of Sports Science and Medicine. December. Vol. 15, No. 4, pp. 715-722.
[6] Schoenfeld, B. J. 2016. Science and Development of Muscle Hypertrophy. Human Kinetics. Champaign, IL.
[7] Schoenfeld. B. J. 2013. The MAX Muscle Plan. Human Kinetics. Champaign, IL.
Did you find this content valuable?
Add yourself to our community to be notified of future content.
About the Author